WELCOME TO OUR WATERFRONT HOTEL IN ST. MARY'S GA
Featuring Seagle's Cafe and Saloon
---
The Riverview Hotel and Seagle's Cafe & Saloon are the perfect combination for your island vacation "get-a-way" beach adventure.
The historic Riverview Hotel rests on the banks of the St. Marys River. It is the Hotel nearest to the Cumberland Island Ferry and Visitor Center for Cumberland Island National Seashore. Relax on the veranda overlooking main street and enjoy the view down the St. Marys River to Cumberland Island and Fernandina Beach.
Picnic Lunches are packed daily for visitors going to Cumberland Island, as well as for large groups. The Seagles Restaurant is open for lunch Saturday. The Waterfront Cafe and in the Seagle's Saloon including a non-smoking martini bar is open for dinner nightly and music every Friday!
Directly Across from the Cumberland Island Ferry
---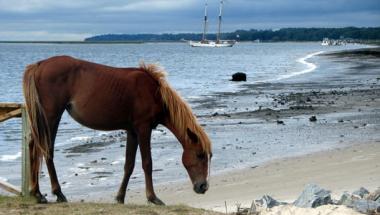 Cumberland Island is St. Marys barrier island, and is a National Seashore Wildlife Park. A ferry departs directly across the street from the Riverview taking visitors and campers to the island twice daily.The island beach is 22 miles long, pristine white sand dunes, dotted with palm trees, and littered with sea shells. See wild horses, sea turtle habitat, and wildlife.It is by far the most popular excursion for hotel guests. Enjoy camping, hiking, nature, beaches, and historic areas of interest. Ferry departs twice daily. 9 am and 11:45 am 1-877/860-6787 (Picnic Basket Lunches $7.00)
RIVERVIEW HOTEL VOTED 2012 - 2013 SEVEN SEAS CRUISING STATION OF THE YEAR